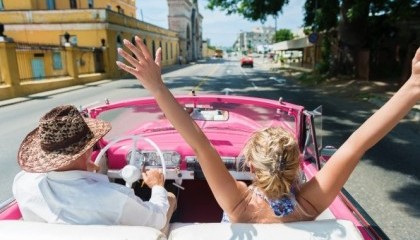 With the start of the first commercial flights between the US and Cuba in more than half a century, the time-warped Caribbean island has become more accessible.
In August, JetBlue made aviation history, becoming the first carrier to resume the route as relations between the two countries continue to improve.
When Flight 387 touched down in Santa Clara, the Airbus 320 aircraft was the first jetliner to fly between the two countries. Back in the 60s, the route was served solely by propeller-powered aircraft.
Those services ceased in 1961 when the US imposed its embargo on the communist nation.
JetBlue president and chief executive Robin Hayes said the carrier is "proud" to be the first US airline to serve Cuba in more than 55 years.
"For the first time in decades, families separated by only a short stretch of water can easily and affordably visit a loved one, attend an important occasion or visit a special place – and the role we play speaks directly to our mission of inspiring humanity," he said.
The deployment will eventually lead to around 110 flights operating every day between the US and Cuba by eight airlines including Alaska Airlines, American Airlines, Delta Air Lines, Frontier Airlines, JetBlue Airways, Southwest Airlines, Spirit Airlines and United Airlines.
Services will connect Havana to American cities such as Los Angeles, Miami, New Jersey, New York City, Orlando and Atlanta.
This is a different kind of revolution for Cuba. And it's not restricted to the skies, but is in fact taking place across its entire tourism industry.
In May this year, US cruise ship the Adonia docked in the Cuban capital, Havana, after sailing from Miami, Florida carrying some 700 passengers. This first such crossing in more than 50 years was operated by Carnival Corporation's newest brand Fathom – a massive sign of confidence in the destination.
The country's hotel landscape is also under massive shift. In March, it was confirmed that Starwood Hotels and Resorts had signed three hotel deals in Havana, making it the first US hotel group to enter the Cuban market in nearly 60 years. 
Although it holds a newness for the US market, Aussies and Europeans have long had a love affair with Cuba. But as tourism opens up the country like never before, with the benefit of improved access, there's no doubt it will result in considerable change.
A large part of the island's charm besides its natural and cultural appeals, lies in its ability to transport visitors back in time. So, if that's a journey that interests you, then you had better get there soon, before it's too late.
Important information
Information is current as at 6 December 2016 and may change.