We all know that bad diets can trigger obesity, diabetes and heart disease. But did you know that a good diet may also lower your risk of getting Alzheimer's?
Research by Susan La Monte[1], a neuropathologist at Brown University in the US, has left some researchers asking whether Alzheimer's is really diabetes of the brain. As strange as this theory sounds, a recent Australian study[2] backed this up, linking the preservation (or weakening) of the brain structure and function to a person's ability to metabolise glucose normally.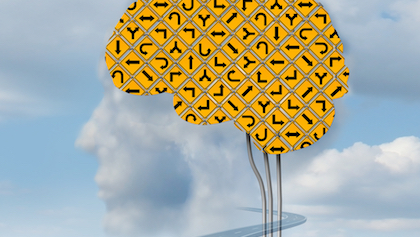 Diabetes has long been considered a risk factor for dementia, but this new research suggests insulin resistance – the cause of diabetes – may in fact cause dementia.
As Professor Sachdev, leader of the Australian study says, "Prevention of diabetes is also a strategy for the prevention of dementia."
So, what can you do to help prevent diabetes-related Alzheimer's?
Avoid sugar – in all forms
Foods that interfere with the role of insulin in your body may have the potential to increase your risk of diabetes-related dementia. The key culprit here is sugar. The recommendation: to limit your intake as much as possible[3].
Avoiding processed and packaged food helps – or if you are buying these, read the ingredients before you buy. The general rule is that if sugar is one of the first four ingredients, it may be best to give it a miss. Also remember that sugar goes by other names, including glucose, fructose, maltose, dextrose, high-fructose corn syrup and more.
Ditch those fries
Several studies, including La Monte's, have found that saturated fats, like those in meat, deep-fried foods and take away food, can increase the risk of diabetes – and dementia. Transfats, which are often in store-bought pies, pastries, cakes, biscuits and buns, can also increase your risk.[4]
Say 'no' to nitrates
La Monte's research suggested nitrates, commonly added to preserved meats, might also be a risk factor[5]. So look out for sodium nitrite on food labels, and consider cutting back on foods like ham and salami.
Eat well
Alzheimer's Australia suggests your diet should include a higher intake of 'good fats', like those found in fish and olive oil – which are linked to a lower dementia rate. Foods high in antioxidants, such as tomatoes, pinto and kidney beans, pecan nuts, cranberries, blueberries and oranges, are also great for your brain[6].
Exercise – both your body and mind
Physical and mental exercise are key[7] – walk or do a crossword instead of lounging in front of the TV. Even better, combine it with social activity – maybe consider joining a dance group or book club.
It's important to speak to your doctor if you have any concerns about your health or before making major changes to your diet or physical activity.
DISCLAIMER: This article is for general information only and neither GWMAS nor any member of the NAB Group or their officers, employees and agents, make any warranty or representation about the accuracy of reliability of the research upon which it is based.

[1] Journal of Diabetes Science and Technology, Alzheimer's Disease Is Type 3 Diabetes–Evidence Reviewed, Suzanne M de la Monte, 2008
[2] Journal Age, The Sydney Memory and Ageing Study, UNSW Centre for Healthy Brain Ageing, 2014
[3] Current Alzheimer Research, Dietary patterns in Alzheimer's disease and cognitive aging, Gu Y1, Scarmeas N, 2011 Aug;8(5):510-9, retrieved from ncbi.nlm.nih.gov
[4] Yourbrainmatters.org.au, Five Simple Steps, Alzheimer's Australia
[5] Dr. Oz Magazine Alzheimer's: Diabetes of the Brain?, Dr. Suzanne DeLaMonte, 04/06/2011
[6] Yourbrainmatters.org.au, Five Simple Steps, Alzheimer's Australia
[7] Yourbrainmatters.org.au, Five Simple Steps, Alzheimer's Australia