Juggling multiple debt payments? Consolidating all your debts into one loan may help – but make sure you do your homework before you take action.
Got credit cards, personal loans and a car loan too? If you're struggling to pay it all off, you may have considered consolidating all your debts into one loan.
There are plenty of good reasons to try this strategy – but there are also some traps that you need to avoid.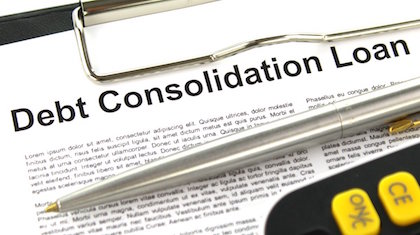 Transferring your balance to a low-rate interest card
Pros: By transferring all your debt to a credit card that offers low (or even no-interest) on balance transfers for a fixed period, then making a regular monthly payment, you could pay off your debt faster at a much lower interest rate. For example, if you transfer $5,000 from a credit card with an interest rate of 18% that you plan to pay off in two years to a card that charges 0.1% for two years, and you pay it off in that time, you could save $854 in interest [1].
Cons: If you don't manage to pay off the loan in the set time, the amount remaining on your card will automatically go to a higher interest rate. What's more, anything you buy using the new card will also be charged at a higher rate – and it won't be paid off until you pay off your balance transfer amount.
Putting all your debts onto your mortgage
Pros: Paying off a mortgage and credit cards at the same time? If you've got enough equity in your home, you might consider transferring the credit cards to your home loan. The home loan interest rate will almost certainly be lower than the credit card interest rate.
Cons: Remember that your home loan is secured by your house. If you can't pay your loan, you may have to sell your home, so increasing the amount of debt you have on your home could be risky.
Taking out a personal loan
Pros: By taking out a loan with a fixed term, your loan has a definite ending. For instance, if you're making minimum monthly payments on two credit card debts – one of $7,000 at 18% interest and one of $3,000 at 15%, you'll end up paying a massive $17,842 in interest over 38 years and four months on the first one, and  $3,804 in interest over 18 years on the second one. That's a grand total of $21,646 worth of interest [2].
If you consolidate those two cards into a personal loan for $10,000 over five years with an interest rate of 13.69% – with a $55 weekly payment, you'll have paid them off in four years, paying $4,000 in interest – $17,646 less than you were paying on the credit cards. [3]
Cons: Do your sums carefully and make sure your loan will cost you less than paying off more than the minimum amount on your card. Remember, if you keep your credit cards and continue racking up debt, you could end up in a worse financial situation than you starter – with a personal loan to pay off on top of your credit cards.
What's driving your debt?
The best way to stay out of debt is to stop using credit in the first place. If you're finding that hard to do, take a good hard look at your spending habits and see if you can make some changes. We can help you get on track, call us today on |PHONE|.
[1] Interest calculated using the ASIC MoneySmart Credit Card Calculator, comparing $5,000 at 18% over 2 years, paying $246 each month ($902 interest) and $5,000 at 0.1% over 2 years, paying $209 each month ($5 interest).
[2] Interest calculated using the ASIC MoneySmart Credit Card Calculator. $7,000 at 18%, paying the minimum payment, and $3,000 at 15%, paying the minimum payment.
[3] Interest calculated using the ASIC MoneySmart Personal Loan Calculator. $10,000 at 13.69%, making weekly payments of $55 over 5 years.