According to the Australian Bureau of Statistics, about two thirds of Australians live in a big city.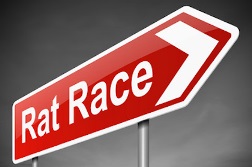 There's no doubt that big city life has many pluses, starting with more job opportunities and infrastructure, better public transport and a variety of schools, shops, restaurants and entertainment options. But if the rising cost of housing, air and noise pollution, crowded streets and traffic jams are getting you down, there is a way out – and you don't have to move bush or live in a beach shack to escape.
Where to go
Perhaps you enjoy the benefits of the city but want to spend less time commuting and more time with your family. Maybe you'd like more space for the kids to run around and play, or have pets. If so, it's worth considering a move to one of Australia's regional centres or towns. Places such as Armidale in New South Wales and Bendigo in Victoria, or areas like the Sunshine Coast in Queensland, offer many of the facilities that make big city life attractive, but with a gentler, slower – and generally cheaper – lifestyle.
Before packing up and leaving, you'll need to do your homework and choose an area where you'll be able to find work. Start by checking the town's council pages to see which industries are the biggest employers – which may be surprisingly similar to ones in the city. For instance, Bendigo has thriving business, finance and education sectors, while Queensland's Sunshine Coast area has work in clean technology, professional services, and tourism and events.
The other thing to consider, and discuss with your employer, is the possibility of staying in your current job but e-commuting. That way, you can benefit from living on big city wages in a smaller town – and you won't have to spend time job hunting before you move.
One of the biggest pluses of regional living is the lower cost of living. And if, like many city-dwellers, you've been priced out of the housing market, you may find some extraordinary bargains in the smaller towns.
For example, the median house price in Sydney recently hit the $1 million mark. Let's assume that a Sydneysider pays a 20 per cent deposit on a one million dollar house and takes out an $800,000 mortgage. They'll need to come up with about $4,900 a month to cover their repayments.[1]
Meanwhile a homebuyer in Armidale, NSW (where the median house price is $347,580), who also pays a 20% deposit, will have monthly repayments of $1,712.00[2]. This leaves them with far more disposable cash, which they could then invest in shares, managed funds or investment property to grow their wealth.
When you do your sums, consider whether some costs might be higher, and factor them in. Depending where you go, you may pay significantly more for things like fuel and fresh produce, as well as transport costs for larger items not locally available. 
Please contact us for more information.