A recent investigation found Australians aged over 65 experienced financial abuse more often than any other crime1. So if you're considering putting a Power of Attorney (PoA) in place, here's how to keep yourself – and your money – safe.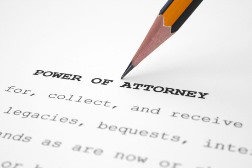 A PoA is a legal document that gives another person (your 'agent') the ability to manage your financial and property affairs on your behalf.
The law regulating powers of attorney in Australia is state based legislation and as a result may differ in each state.  However a POA made in one Australian State or Territory will generally be valid in another Australian State or Territory if it complies with the relevant legislation in the State or Territory in which it was made.
It's an important estate planning tool that comes in handy if you (the 'principal') are no longer able to manage your affairs yourself – for example, if you become incapacitated or simply want someone to help look after your money. However, in the wrong hands, it can put you and your financial security at risk.
And it's not just older people who are at risk – anyone can be the victim of a PoA scam. That's why it's important to think carefully about who you trust before setting up a PoA.
What could go wrong
The most common POA scam usually involves someone without immediate family members who grants a PoA to a neighbour or more distant relative. The person gains the principal's trust, then, with the authority of the PoA, signs over all the money to themselves. Those in vulnerable or isolated positions are most at risk.
A recent case in Western Australia saw a Polish immigrant with no immediate relatives sign over PoA to his legal practitioner after his health deteriorated, to allow him to collect rent and pay bills. The agent went on to steal funds amounting to $767,245 and continued to operate the principal's bank account after his death.2   In another instance, a trusted neighbour was given limited PoA for the specific purpose of picking up an elderly couple's number plates. He then used the document to withdraw money from the couple's account.3
Sometimes the person named in the PoA can even access money after the principal dies. By setting up a joint bank account to facilitate paying bills on their behalf, the PoA will have a right to the money after the principal's death, even if they weren't listed as a beneficiary in their will.
How to minimise risk of abuse
While the risk of PoA abuse is still relatively low, there are some easy steps you can take to protect your assets.
1. Name a person you trust in your PoA – and keep it up to date
The single most important thing you can do is appoint someone you trust without any reservations, and review your decision every few years. If your nominated agent's personal circumstances, relationship with you or financial position has changed, you may want to reconsider if they're the right person. Remember you can revoke power of attorney at any time, as long as you're mentally capable.
2. Understand the different types of PoA
There are generally three types of PoA, with different limitations on what they can and can't do – but these also depend on which state you live in:
General power of attorney: your agent can make financial and legal decisions on your behalf, for a specified period of time – but the PoA expires if you become incapacitated.

Enduring power of attorney: your agent can make legal and financial decisions for you, including if you become incapacitated.

Medical power of attorney: your agent can make medical decisions for you, once you're unable to do so.
3. Look out for suspicious behaviour
Once you have a PoA, write to your financial institutions and banks, asking them to keep you informed of any changes to your accounts. If you're looking after an older relative or parent, keep track of their bank accounts for any suspicious transactions, especially if they become incapacitated.
4. Take greater control
You can ensure accountability by writing a third party into your power of attorney document, so that your PoA agent's decisions must be approved by another person. You may also choose to place limits on how the power of attorney is used, even down to specifying which documents the agent signs on your behalf.
5. Seek financial advice
Everyone's financial and personal situation is different, so get good advice before setting up a PoA. For advice about estate planning and power of attorney, speak to your solicitor and the experts on |PHONE| today.
1.  House of Representatives Committee, Fraud and financial abuse, 2010
2.  Wuth, Natalia, Elder Law Review, Enduring Powers of Attorney with Limited Remedies – It's Time to Face the Facts! 2013.    
3.  Market Watch, Power of attorney: it's easily abused, 2013