It's no secret that travelling can be expensive, but it doesn't have to break the bank. Here are some tips and ideas for keen travellers, to help get you ready for your next adventure.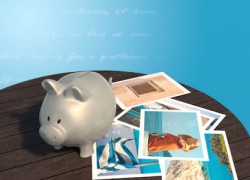 Choose your adventure
One of the best parts of travel is the planning – and the first step is to choose where you want to go. If you're short on ideas, here are some well-trodden travel paths to help get your inspiration flowing – and a rough guide to their cost.
Climb aboard a Euro cruise
The ultimate in bucket list holidays, a luxury cruise will immerse you in all the Old World has to offer – from the fjords of Scandinavia to the canals of Venice, or the islands of Greece. Or take a cruise down one of Europe's major rivers, soaking up history and culture along the way. Be prepared to spend at least $1,200 per person for a 7-night cruise .
Hit the Grey Nomad trail
If you prefer to see Australia, one budget-friendly way to travel is on the open road, in your own campervan or caravan. This type of travel has the benefits of flexibility and freedom – you can choose your itinerary, stay where you please and cook your own meals to keep costs down. Depending whether you already have a van and how long you want to travel, the price will vary – but remember to factor in petrol costs and vehicle maintenance.
Enjoy a South East Asia jaunt
South East Asia has long been a favourite for travellers who want maximum cultural and spiritual adventure for minimum cost. You can choose the cheap and cheerful option – staying in budget accommodation, travelling like the locals and eating from street market, or budget tours start at less than $1,000 per person, with longer trips available for around $3,000pp.
Have an all-American adventure
The United States is the stuff of films and legends – from iconic city landmarks to charming small towns and stunning national parks teeming with native wildlife. Stroll down the boulevards of Los Angeles, catch a Broadway show in New York, or kick back on the beaches of California. The US offers a dazzling array of tours and package holidays – starting at around $1,600 per person for seven days.
Budgeting for your big trip
Once you've decided where you'd like to go, the next thing is to set a budget and get saving. Be realistic about the costs to make sure you don't end up overspending – and remember to include extra expenses like travel insurance, meals and spending money.
It may be worth setting up a separate account for your trip – so you can watch your money grow.
Remember, the above costs are only a guide – and will vary dramatically based on the trip you choose. To get the most for your money, shop around for the best deals, the cheapest time of year, and consider accommodation with a kitchenette so you can prepare some meals.
If you decide not to go with an all-inclusive package, check out travel guides, such as the Lonely Planet, for an estimate of your daily living costs. That will help you understand how much to save, so you don't arrive home with a big credit card debt.
Don't forget to check your credit cards before you buy travel insurance, as many cards include basic cover at no extra cost.
Find out more
Want to travel but not sure how to afford it? Get professional advice that can help you afford the lifestyle you want, by speaking to the experts at MLC Godfrey Pembroke today.
***All travel prices quoted in this article sourced from Flight Centre, June 2015