1. Who can inherit my estate?
Your estate includes everything you own when you die. You can decide who'll receive it by leaving instructions in your Will. However, there are a few ways your Will can be overruled.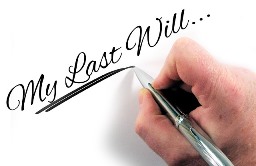 Generally, if you've given a nomination to your super fund, leaving your super to a dependant, then they will receive it, regardless of what your Will says. That can include your spouse or de facto spouse, any of your children, anyone financially dependent on you or in an interdependency relationship with you at the time of your death. Assets held in a family trust are managed to the Trust deed.
2. Who can inherit my super?
You decide who inherits your super by nominating a dependant under the superannuation legislation. If you would prefer, you can nominate to leave your super to your estate, then use your Will to say who you'd like to get the money.
So it's important to update your nomination if your personal circumstances change – like in the case of divorce. If you don't nominate a dependant or your estate, then the Trustee of your super fund may decide who receives your money.
3. What happens if I die without a Will?
If you die intestate (without a Will), your estate is handled according to the succession laws in your state or territory. These laws decide which family members are entitled to receive your assets and how much each of them will receive.
4. If I leave my super to my spouse or child, will they have to pay tax on it?
The person who inherits your super may need to pay tax on the taxable component of the money they inherit. How much they pay depends on how old they are, whether they're a 'dependant' under the tax rules and the way the super is paid to them. Visit the ATO website or talk to your financial adviser to learn more how the tax laws could affect you and your family.
5. Can my kids sell the family home after I die?
If you own the family home with your spouse, then you're likely to be joint tenants.  So if you pass away and your spouse is still living in the home, he or she will inherit the home and become the sole owner. This means your children can't sell it – and if you have children from a previous relationship and you have married again, your children may not benefit from it.
Find out more
Estate planning is a complex area, so don't leave it to chance Contact us today to get you on track to planning your estate the way you want it.