Modern life can feel like you're running a marathon — between work life, home life and social life, it can be tough finding time to breathe, let alone taking a few moments out for yourself.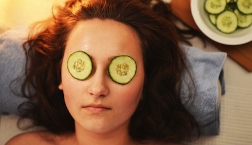 But with one in four Australians feeling stressed in their everyday lives, it's essential to put aside some time to unwind — no matter how busy your day is.[1] Here are our top five suggestions.
1.   Escape
When you're feeling trapped in the rat race, find a way to get out of it — even if only for an hour or two. Visit a place that you love, take a hike through nature, or soak up some culture at a museum.
And there are plenty of different ways to escape the daily grind that don't involve going far. By burying your head in a book or buying a single ticket to the cinema, you can lose yourself in a new reality.
But most importantly, switch off your phone and computer to enjoy a true escape from other commitments.
2.   Pamper yourself
You work hard all day every day — so don't feel guilty for rewarding yourself. Whether it's the full spa treatment or a massage, you will feel refreshed and ready to tackle your next task.
And a pampering doesn't have to cost you the earth — or anything at all. You can simply set aside an hour for a long, relaxing bath. For added relaxation, try adding essential oils with a calming effect.
3.   Get active
If relaxing isn't your style, then why not reinvigorate yourself with a workout? The positive benefits of exercise are well-known, with at least 2 ½ hours of moderate exercise recommended per week.[2]
When it's hard to fit the gym into your packed schedule, you can always squeeze in a short routine at home with a DVD or online video. And exercise doesn't have to be boring — you could consider a yoga or dance class to get fit and reduce stress.
4.   Learn a skill
Is there something you've always had a burning desire to learn? Or perhaps you'd like to brush up on a hobby from your younger days. Whether it's painting, piano or Portuguese — stop putting it off and start practising, even for just 15 minutes a day.
Or, you could register for a class or book a private teacher, so you have a dedicated time each week to apply yourself to your skill.
5.   Wine and dine
Eating and drinking are two of life's greatest pleasures, and yet so often we are too busy to truly enjoy them — so we settle for eating takeaway at our desks or a microwave meal after work.
So why not take yourself out for a delicious meal now and then? Or you could simply make a few minutes in your day to savour a beverage, whether it's a wine or coffee, a beer or a kale smoothie.
[1] Australian Psychological Society, Stress and wellbeing in Australia, 2015
[2] The Department of Health, Australia's Physical Activity and Sedentary Behaviour Guidelines, 2014