Reproduced with the permission of the Mortgage and Finance Association of Australia (MFAA)
Before you take the leap into holiday-home investment, it is essential that you consider all angles. This means taking your heart out of the equation and giving thought to rental returns.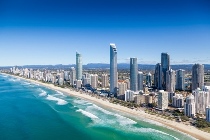 When deciding whether or not to buy a house or unit, you'd be best served to consider location first. In fact, location has a great deal to do with the success of your investment property if you will be renting it as a holiday destination.
"Sometimes people are torn between where they would prefer to holiday as opposed to looking at the logistics of what will rent better, and what niche markets they can target to provide better rental returns," says Accom Holidays Director, Brent Pilkington.
You want to make sure that your property location matches up with market demand. Things to consider are travel time and expense, rental rates, as well as local attractions and activities.
"The best rental return properties on the coast are in busier suburbs, but often holiday rental buyers are looking at some of the peripheral suburbs that are quieter," explains Pilkington.
"That's when it's ruled by their heart rather than their head, and they can end up with a property that may be popular through peak periods, but that delivers much more seasonal rent return."
Pilkington suggests taking occasional markets into consideration too. "I think the key thing is to choose areas that are not just holiday locations. Somewhere that has other things going on besides holidays. This means that when it's not the holiday season, there are still other reasons for people to visit the area."
Once you've researched the options and decided on your holiday home please contact us.
Reproduced with the permission of the Mortgage and Finance Association of Australia (MFAA)
http://www.mortgageandfinancehelp.com.au/
Important note: This provides general information and hasn't taken your circumstances into account.  It's important to consider your particular circumstances before deciding what's right for you. Although the information is from sources considered reliable, we do not guarantee that it is accurate or complete. You should not rely upon it and should seek qualified advice before making any investment decision. Except where liability under any statute cannot be excluded, we do not accept any liability (whether under contract, tort or otherwise) for any resulting loss or damage of the reader or any other person.